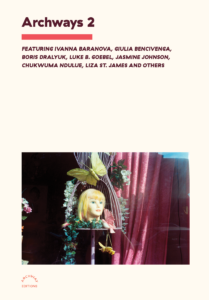 Edited by Chris Molnar, Nicodemus Nicoludis and Naomi Falk
2024
Paperback
4 7/8 x 7 in.
TK pages
ISBN 9781648230431
Los Angeles Times calls the writing "funny, transgressive and absurd" in this anthology of Archway Editions' bicoastal event series and scene-making spectacle.
Archway Editions finds what's next in literature with the bicoastal reading series ARCHWAYS, with must-see happenings in LA along with the anarchic, rave-adjacent original in NYC. Salon-style events keep pace with rising trends but stay focused on Archway as a brand for smart writing coming in against the status quo.
Readers include upcoming AE authors Jasmine Johnson (LA Times calls her reading "funny, transgressive and absurd") and Luke B. Goebel; national bestseller Ruth Madievsky; Los Angeles Review of Books editor and famed translator Boris Dralyuk; editors from Harper's, Lapham's, NOON; poets, podcasters and influencers alike. This is a vital document from a rising American scene of readers and writers, hipsters and misfits, rave denizens, professors and screenwriters, all joined together by the iconic spectacle of Archways and a shared destiny to be what's next in literature.
CONTRIBUTORS slated for the anthology: Aiden Arata, Will Augerot, Ivanna Baranova, Giulia Bencivenga, Helen Donohue, Boris Dralyuk, Jared Daniel Fagen, Luke B. Goebel, Jasmine Johnson, Evan Laffer, Rachel Ly, Ruth Madievsky, Chukwuma Ndulue, Moira O'Neill, Sóla Saar, Iván Salinas, Anna Shoemaker, Liza St. James, John Tottenham and many more.