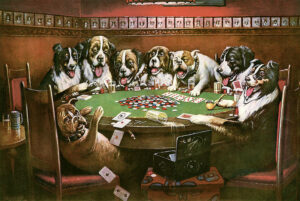 COVER LETTER by Daisuke Shen
       I was having a bad time in life, by which I mean I was working at an animal hospital in my hometown.
       "I'm going to be completely honest with you, sir," I said to the interviewer. He had glasses and a goatee like Colonel Sanders, but looked sadder, like if Colonel Sanders were in a vaguely suicidal period of life. "I don't have the experience for this whatsoever."
       On the walls were the same painting, over and over again, of those famous dogs who play poker. The room reeked of stale cigarettes, but that couldn't possibly be true. What kind of veterinarian would smoke cigarettes around puppies with tapeworms, kittens born with half a lung?
       Everett Simmons, VMD, looked at me with the eyes of the ancients: I've seen it all before and now here this bullshit is again.
       "Are you willing to learn on the job?" he asked.
       "Um. Yeah, I guess so."
       "Do you know how to follow instructions?"
       What a demeaning question. For a moment I thought about leaving. But then I remembered: Crazies find each other all over the planet, like pieces of quartz or feldspar. So I knew he was genuine and I knew he was kind.
       "Yes," I said.
       "It'll be alright. Just do as I do, and you'll be just fine." Everett Simmons, VMD, straightened a stack of papers and got up to shake my hand. I assumed the paper-straightening was a way of establishing a power hierarchy. He knew the secrets of the world, and I didn't; but all in time, all in time.
       "When do I start?"
       He looked behind him at the calendar, sandwiched between the twin dog portraits. The dogs regarded each other with equal amounts suspicion and true companionship. That's what you call a friend, I guess: Someone you love, even knowing that one day, they will fuck you over.
       "Monday?" he said.
       "Monday?" I said.
       "Yeah, Monday?" he said again.
       "Sorry, is this a question, or."
       He nodded. "Okay, then. See you next week."
       I shook his hand. It was warm and soft, like a pastry. I walked out feeling like $100,000 dollars. $100,000 because that was how much I needed to make each year to live comfortably in a better city, any city other than Powder Springs. Feeling like a million dollars would have been nicer, obviously, but it just wasn't realistic at the time. In the meantime, I'd be making $30,000 a year. 
*
       Back at home, Marcia had ordered pizza and wasn't paying attention to the book laying on the couch beside her. She was on the phone with someone I could only assume was my ex-best friend, Evan. Evan, who didn't have a job (which I now did), and wrote novels (which I didn't). Somewhere between joblessness and novel-writing is where I'd lost Marcia, although which it was, I couldn't say.
       I stood by the door and made a big deal of removing my coat very slowly. As if the coat were Marcia's guilt weighing on her, heavy and unbearable, and I was the one carrying it, begging her to put it down.
       "I gotta go," Marcia said fast, and hung up before the other person, aka Evan, could respond. She skipped across the living room and hung her arms around my neck. "Hi, David."
       It was like if every day, you dreamed the same dream: You've ran to make your train and missed it, and then to make it all worse, you see the face of the person you love riding away from you, the person you've missed for your entire life. Headed toward the place you also meant to go. Even when Marcia sees me, runs to place her hand on one side of the locked doors, our fingers don't quite meet. I can see my hand touching hers but it's only an illusion. There's still the thin and troubling distance of the window. Perhaps nothing is so brutal.
       I tried to stop thinking about it. To get out of it, that feeling, I kissed her cheek. "I got the job."
       "You did? Oh my God!" Marcia stepped back and did a little dance. Whenever she danced, it was all in her shoulders. The rest of her body never moved. So she did a couple shoulder rolls and then raised her hands in the air. "David, this is so great! Do you feel happy?"
       "I feel like one million dollars," I said.
       Marcia laughed the way the world laughs along with me when we both know how broken it all is and how it'll never come back together. I missed her more than ever in that moment, as she danced.
       Little tufts of smoke drifted out into the living room, curling over her head.
       "Is something burning?" I asked Marcia, but she was already moving toward the kitchen. I followed her. Marcia never wore pants at home, and didn't bother putting any on before pulling something charred and still on fire out of the oven.
       "What's going on?" I demanded, and now I was allowing myself to feel pissed. I was pissed and talking about the smoke but I was also talking about Evan who made her laugh and couldn't look me in the eye at parties. I let my voice get loud. "What's going on, Marcia?"
       But Marcia had turned quiet the way she always did when something went wrong. She opened a window. We watched the oven belch out more smoke and chemicals that I knew would someday come back to kill us, not now, but in years, when riddled with cancer from all the other chemicals we placed inside our bodies, like pop and nicotine and unnatural toothpaste. The smoke alarm kept stating the obvious: "Something is going on! Something is going on!" as if we didn't already know. I got on a chair and waved at it with a towel until it stopped. Marcia waited in her stained Target underwear for me to get down.
       "What was that?" I asked, pointing at the black rectangle that she'd thrown inside the sink.
       Marcia sniffed. Had we always been so scared of each other? "It was a cake."
       "A cake?"
       "If you got the job…I thought, you know, I thought it might be nice…" Her voice trailed off. She folded herself down onto the floor and sobbed into her arms. She looked like the world's tallest gargoyle, and I looked like her boyfriend whom she hated.
*
       Here is a list of all the jobs I've ever worked.
       – Sales Associate, The Home Depot (August 2009-December 2009)
       – Server, Olive Garden (December 2009-April 2010)
       – Janitor, YMCA (July 01 2010-July 23 2010)
       – Substitute middle-school math teacher, Southwestern Christian Academy (September 2012-November 2012)
       – Traffic attendant, Clemson Football Stadium, (November 5 2012-November 20 2012)
       – Barista, Starbucks (April 2013-September 2013)
       – Burrito Designer, Joel's Holy Guacamole (September 2013-November 2013)
       – Web Designer, Bark, Bark, Baby (November 2013-December 2014)
       – Sales Associate, TCBY (December 2014-January 2015)
       – Janitor, YWCA (January, 2015-April 2015)
       – Intern, Hungry Ghosts Food and Beverage Magazine (January 2016-December 2016)
       – Dogwalker (Jan 2016-Feb 2016)
       – Web Designer, Kim's Piano Lessons (Feb 2016-March 2017)
       – Marcia's lover (2010-current)
       – David O'Neal Ferraro (1992-current)
       – David O'Neal Ferraro, son of Kim and Jeremy Ferraro (1992-current)
       – David O'Neal Ferraro, not a poet, not a writer, not a friend of Evan Jamison (2017-current)
       – Veterinary Assistant, All Creatures Great and Small (March 2017-current)
       – David O'Neal Ferraro, the slow, determined killer of David O'Neal Ferraro (1992-indefinite, potentially forever)
*
       "What's got you down?" Everett asked me.
       We were sitting in the break room, eating trail mix out of a large vat someone had bought from Costco. Everett kept throwing out all the sunflower seeds he found, picking them off like fleas. He didn't even bother asking if I wanted them, which annoyed me. Not because I liked sunflower seeds or anything in particular. I just wanted him to ask.
       "Me? Oh, nothing." Two of the other veterinary assistants walked by holding a ferret, writhing and screaming, wrapped up inside a towel. Then they went inside a room and were gone from us.
       "What brought you back to Powder Springs?" Everett asked.
       "It's been a hard couple of years is all," I whispered, and suddenly I was crying.
       A door opened and one of the assistants walked out looking terrified. "Doctor Simmons? Are you ready?" Then she saw my face. "Oh."
       "Just a minute, Janice," he said, lifting his finger. Janice nodded and ran back toward the room.
       I tried saying something but couldn't.
       "Why don't you wait here until I'm done?" Everett said.
       I stared down at the floor, at the wet drops on the carpet. "Yeah."
       "Alright. Time to go express some anal glands."
       He passed me a tissue and then it was just me and all my thoughts.
*
       Marcia, we will never work things out. In four or five years time, we'll have forgotten each other, cleaved each other from most of our memories, and I don't want it to be true. Go back in time and make it so it isn't. I've tried, I've tried. Every night in my dreams you still get on the train and I'm on the platform, but nowadays you don't even bother getting up. You sit there and wave, and I'm demanding everything goes backwards. I'm still there, in those early years before everything was lost. Can't you see it: Evan and I skating down the railing, breaking into all those important locked buildings, remember us shoulder-to-shoulder trying to prove who was taller? You could never figure it out. We were the same height, you kept saying. There was no difference. And you'll move on and I won't. I'm still here, talking to you, even when you can't hear me any more. My mom keeps asking if we still talk every time I visit. She shows me this letter you wrote her: Dear Kim, I'm so sorry. I'll always love you and your son so much. My dad tells both of us to get over it. Why'd you have to fucking say something like that? Why'd you write it? It wasn't true, so why'd you write it?
*
       As promised, Everrett came back, his white coat covered with sweat.
       "I'm quitting," I said to him. I felt calm now, like nothing had ever happened. Like the future hadn't started yet and wouldn't until I told it to.
       Everett didn't say anything. He seemed guilty, somehow. I heard the assistants taking the ferret back out to its owner, saying how cute he was and laughing.
       It dawned on me then, why Everett looked like that, so sad. How many of us had he tried to save? The people who came in here looking more lost and sick than all the rest of God's creatures, great and small, with no experience and no money in our bank accounts? Had he managed to save even one?
       "Alright, son. But if you ever need work, just let me know."
       "Okay."
       We shook hands. I took off my coat and handed it to him.
       "Thank you," I said.
       "The dogs," Everett said. He was pointing at the paintings around us. "They know better than us. That life is a gamble. But they're still playing anyway. You've got to figure a way to stay in this, no matter how hard it gets."
       I wanted to say, You're not my dad or a pastor or anyone important. You're just an old guy who looks like Colonel Sanders and has some sort of savior complex for guys like me. So stop trying to sound so deep. Instead I said, "Thank you, Doctor."
       Everett walked me to my car. As I stopped at the end of the road at a stoplight, I looked back. He was there, outside of that little wooden building, waving.
       The world is full of Everetts, just people waiting to break your heart.
*
       When I got home, Marcia was already asleep. I checked my phone to see how much money I had in my account. $1000, plus I guess $20 from today? I tried to imagine myself calling Evan. To tell him about this weird veterinarian. And that I had no more friends now that he'd stopped speaking to me. That I wanted him to stop talking to Marcia so I could love him again. So she could love me again. For him to remind me that poetry was such bullshit, that it didn't really matter and I could just start writing again whenever I wanted to. If I called him and asked him these things, if I told him everything I knew, he'd listen. But it wasn't my job.
       I curled up in bed beside her and tried to be small. I felt Marcia's breath on my neck.
       "Hi, sweetie. You just woke me up from a dream."
       She paused. Of course, I knew she wanted me to ask. But instead I said, "I'm sorry, Marcia. Just go back to sleep."
       You already know what I dreamed about after that, after I fell asleep. You see it, too, every time you close your eyes.
(5/22/23)
Daisuke Shen is the co-author of the novella Funeral with Vi Khi Nao (KERNPUNKT Press 2023). Their debut short story collection, Vague Predictions & Prophecies, is forthcoming August 2024 from CLASH Books. You can visit their website at www.daisukeshen.com. Instagram: @ginsengmasque Twitter: @dai__joubu