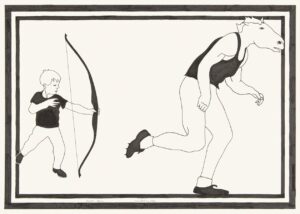 John Wesley Black Bow (1966)
FEAR OF AUTOFICTION, JUNE 16 by Caitlin Forst
A couple nights before, I ran into Jack Skelley at the massive Casual Encountersz backyard reading where he handed me a physical flier for the launch of
Fear of Kathy Acker
—a reissued novel compiling his unedited writing from the heyday of underground literary performances in 80's Los Angeles. I told him I'd been keeping the night open in my calendar so I could go. I wanted to be there after I tore through the novel in a single day.
She is sidled up to me and I hold her in her underwear in my arms before I drive into her and Highland Avenue burrows in the hills. We drive past the hills, past her full soft little tits that fall out of the black dress and lacy bra, the little round tittles which she cups in her hands, rubs with her palm, pinches, strokes, guides into my hands, mouth, as I hold her little ass and curve my battered car into the Hollywood Bowl where we have a picnic in the warm descending darkness as the orchestra plays and fills the Hollywood Bowl with Stockhausen and golden light and Girlfriend lifts up her dress and we cradle ourselves into the hills, fall back, drink it in.
At the launch, Jack Skelley reads a passage more raunchy than the one above, hardly contained to his seat, in the energetic register of his punk frontman roots. His recurring diversions into laughter buoy the manic anxiety behind the text even further. Chris Kraus, his conversation partner and publisher, says to him and the crowd that she thinks of self-parody as essential to first person fiction. Both Skelley and Kraus read last fall in the reading series I run called NDA. Another past NDA reader, Christopher Zeischegg, asks Skelley from the front row if the sex fantasies of his book's author-narrator were ever realized with Acker herself. Skelley denies. Casual Encountersz curator and writer Sammy Loren, who's read in NDA twice, pops bubblegum next to Semiotext(e) co-publisher Hedi El Kholti on the bench that encircles the store's indoor tree. To my direct left is Colm Tóibín who warmly grabs my hand in introduction afterwards. The rest of my small row of fold-out chairs are filled by young women handwriting notes with pen and paper. The crowd exceeds seating and peers throughout the standing shelves. My notes in my phone from the night go back and forth like this, as clips of dialogue and observation and scattered ephemera, which in some sense mirrors the construction of the book. A collection of event fliers, including some from the exalted era of Venice's Beyond Baroque, are printed between the sections of Skelley's narrator undertaking bright trips into traffic to engage in actual sex and the immersive throb behind the fantasy of sex. My own fantasies stay internal and specific, though they are irritated nearly to the point of coming to light by the forthrightness of work like Skelley's. Before I can tell you what I mean, either in the context of then or now, the talk redirects to autofiction. 
Skelley explains to us that he couldn't have reverse engineered his book from over thirty years ago to align with any contemporary trend or stigma. "This is pre-autofiction," he says, before listing facets of Acker's work which resonate with recent American conceptions of autofiction: appropriation of dialogue and the author's stand-in appearing in the text under their own name. Kraus outright rejects an association between Acker and autofiction, in effect reprising her take from this LARB article. In the article, also mentioned by Amy Gerstler in his book's introduction, Skelley names Acker as an "autofiction pioneer" before quoting Kraus's personal refusal of the term in favor of the more precise tag of New Narrative. 
A certain view might support autofiction seemingly bottoming out into an oblivion of opposing definitions or even serve as a push for it to reveal itself as an empty manipulator of the current promotional climate. But, in my opinion, autofiction exists best as a device, and endures that way. Although the critical imposition of genre can digress art into forced and low-weight commentary, autofiction's status outside of genre is how it remains generative, often incorporating self-reflexive criticism as a part of its form. 
Considering that most arguments against autofiction feed into its relevance, and even following Kraus's abandonment of the term, which seems to stay entirely unacknowledged by her acolytes, I see another opening for autofiction writers to refigure their work through a deeper engagement with New Narrative. 
It's true that like the writers I admire most, my real devotion lies outside the lines of a literary term and within the effect produced by the writing itself. So much of my taste and interest in books strays extremely outside of the bounds of what anyone, especially myself, would claim is autofiction. I feel chased by autofiction and its inherent contention. I want it to evaporate behind me instead of exit through me, but I'm way too predisposed by the autofictive work of my contemporaries, as well as the work of heroes like Kraus, and Acker, and now Skelley, to fully believe in that as a real possibility.
Caitlin Forst is a writer in Los Angeles and contributing editor for Archway Editions. She edited NDA: An Autofiction Anthology and runs the monthly NDA reading series at Stories where she is the events coordinator. She is also the founder of a forthcoming print annual (to be published by Archway Editions in 2024) called The Capacity.