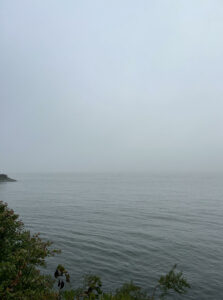 IF I THINK OF A WAY TO ORGANIZE MY THOUGHTS by Gabriel Kruis
– for Ted
Peel back an hour: another hour.
             The sky is sky-
Orange at dawn; sky-grey, sky-
                        Blue by day.
Then, the sun sunsets into it
             And it speaks
                        In pips and glimmers.
             Erase its dice face
And the rock
             Beneath still happens
By chance.
                        In fine,           (Almost envious
             It tabulates the ticking it'll take
For the universal lowgrade fever
             To relieve it.
             Dice,
                        More dice;
            Then
                        —A hill of grit.
(4/27/23)
Gabriel Kruis is a New Mexican poet and educator living and writing in rural Northern Ireland. He is a cofounder of Wendy's Subway Reading Room and his work has been published in A Perfect Vacuum, PEN America Poetry Series, OmniVerse, The Brooklyn Rail, Atlas Review, Frontier Poetry, among others.