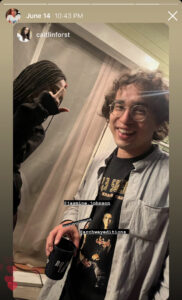 JUNE 11-17, A LITERARY WEEK IN LA by Chris Molnar
Culture writing's objective tone—not in terms of passion or dispassion, but rather the false sense that the writer is at any remove from the written about—is increasingly hard to take seriously, as social media and the collapse of the monoculture creates an endless series of deeply enmeshed niches. If you feel isolated in the arts, it's likely because you hate everyone around you, or they hate you, or both. There is something good and true about hate when judiciously applied. But we are also friendly people who enjoy parties and the company of those in the arts.
All that to say, no claims of objectivity are made here, and I would argue they never can be anywhere. As part of the 2022-2023 explosion of a new, youthful Los Angeles literary scene, Sammy Loren is deeply entwined with Archway Editions; this scene-making LA Times article sets his reading series Casual Encountersz alongside NDA, from our contributing editor Caitlin Forst, and Factory Made, from AE author Jasmine Johnson, as part of a holy trinity of edgy new venues where notable writers outside the mainstream are congregating to read in Southern California.
This past week was something of a culmination for Loren, with three nights of the multi-disciplinary performance
SALT
, which he co-wrote with writer and comedian Ellington Wells for the Volta dance collective, followed directly by the first iteration of Casual Encountersz to take place after the fallout from the
LA Times
 piece.
SALT
took place at the Poetic Research Bureau, a constituent member of 2220 Arts+Archives, one of those Los Angeles institutions that makes you singlehandedly believe in LA, a vast warren of warm, unusual, modular event spaces, the regional-DIY-as-center-of-the-
universe feel that makes this city's scenes so personal and real. It's not just 2220 that made it hyperlocal; it was see-and-be-seen for a whole segment of local and visiting figures of note (Jasmine and Caitlin both spotted in the crowd, z.No Scott., Max Maslansky, Szilvia Molnar, Hedi El Kholti and Colm
Tóibín
, etc.), and the premise—
Medea
reconfigured in a personal, art-world context, audience guided and danced through various "edible installations" from Heidi Ross—could not be more LA.
The iteration on Tuesday, June 13th began with the power going out at 2220, which audience member Ethan Pack—lecturer at UCLA and research fellow on Hebrew and Arabic literature—said was a common occurance in Historic Filipinotown, where he lived nearby, pointing out the trees and vines hanging low over neglected powerlines as we walked down the hill to Crawfords for chicken and beer along with a large portion of the crowd. Loren scrambled to buy a generator, although by the time we returned an hour later, the lights had come back on and beer was flowing in the lobby. Soon, we were ushered inside.
"Witness a woman's unraveling and choose a side," goes the show's tagline. However, a better summation could be found in
Tóibín
's impromptu exhortation to Loren after the show: "I saw your waking life and I saw your dreams." As a commercial video producer and irrepressible art world connector—his readings often occur in art galleries, and feature artists, curators and performers of impressive breadth—Loren exudes Californian positivity (made more robust by his Kansan upbringing), an intelligent, good-natured doggedness that finds the geriatric millennial hosting an often Gen Z-heavy crowd for CE. But here that took the form of what Forst described as "
Synecdoche, New York
 but art world LA with Sammy floating around watching everything," with Jason and Medea occasionally echoing the relationship between Loren and his fiancée Mamie Green, leader of the Volta collective and a strong, graceful presence throughout, mutely emphasizing the words spoken by Wells and August Gray Gall.
Audience members—stickered on entry to follow Jason or Medea as they ranted about the other through 2220's living-room styled corridors—tasted oysters and other appetizers dangled by dancers or served on platters, accompanied by electronics and harp from Eli Klausner and Melissa Achten, culminating in the dancers dancing the audience across the main floor, the two sides together at last.
This high drama was in contrast to Casual Encountersz the next day, which featured Wells and Loren reading their
SALT 
text out loud, alongside Harry Dodge, Sóla Saar, Rebecca Schultz, the aforementioned Szilvia Molnar (no relation), and Juan Espinoza, whose house served as the venue for this iteration. In the same sense that a dramatic multidisciplinary performance could only unfurl so easily across a space like 2220, only in LA is there both the literary establishment and casual, suburban-style backyards to support a packed, pedigreed reading and yet make it feel democratic and accessible. In the audience could be found figures like Jack Skelley (a seminal underground writer of 80's LA, whose belated Semiotext(e) debut
The Complete Fear of Kathy Acker 
launched with Chris Kraus two days later at Skylight Books) and Joseph Mosconi, the director of Poetic Research Bureau, along with many of the people who had attended
SALT
, not to mention the latest iteration of NDA at Stories Books the previous Sunday (which featured Mandy Kahn, Henry Hoke, and Stories bookseller Alexandra Jade), including Mariella Rudi, author of the famous
LA Times
piece, who had initially been inducted into the scene after seeing Jasmine read with Michelle Tea, Robert Glück, Miranda July, and AE's 
Erin Taylor
 (among others) at the March NDA and subsequently become a regular at all related events.
Loren was giving away plastic cups emblazoned with the Casual Encountersz logo (as well as the logo of the gallery that had hosted the prior CE—the cups had arrived too late for that one), and the feel was of a highbrow house party. After Wells and Loren, Saar read from her novel-in-progress, Dodge read from his 2020 Penguin Press memoir My Meteorite; Schultz held down the more performative side (all CEs, and to a greater extent, the LA writing scene at large is particularly sensitive to the quality of the act of reading itself, and inclusive of those emphasizing it); host, Harvard Law scholar and Equal Justice Works fellow Espinoza read a touching story about growing up gay and Latino; and guest of honor Molnar—traveling from Austin, Texas—read from her just-released Pantheon debut, The Nursery.
Afterwards the crowd mingled and attempted—unsuccessfully—to drink up the voluminous supplies provided by Loren and his wine sponsor. I saw a young blonde woman text her friend that this was "the best CE yet". An unknown amateur DJ hijacked the aux cord and played wedding-style hits from the likes of Justin Timberlake and Gwen Stefani. After he gave up and exited, the sound shifted towards the typical CE soundtrack of French pop, Lana Del Rey and Ssion's Ariel Pink-featuring "At Least The Sky Is Blue," whose melancholy evocation of "Diet Coke and ketamine," heard on a perfect June night in Los Angeles after a Casual Encountersz in Silver Lake, drinking and perhaps using other substances with the stragglers and latecomers (it was good to see Evan Laffer of the Jokermen podcast), epitomizes the city to me as it is today, health and abandon, cosmopolitan yet regional, metatextual (the song interpolates Neil Young, with a video featuring Pink and Ssion in drag as Elizabeth Taylor and Liza Minelli) but upbeat, held lightly, a place where multiple people will be carrying bespoke nasal spray bottles of ketamine at any given gathering. We talked and danced under the string lights and gently swaying leaves.
It would all start again just two days later with Skelley's launch (drinks at Dresden after) before moving on Saturday to the packed, multi-floor Acid-Free art book fair returning to Blum & Poe gallery in Culver City, both featuring many of these names and more. As I rolled into Acid-Free around five in the afternoon, Hedi El Kholti (with whom I had briefly talked publishing before SALT and after the Skelley launch) asked me why Archway didn't have a table there; I'd never heard of the fair until John Tottenham had invited me to his reading upstairs, I said, but we'd be present and counted next year. A passer-by asked him how long he'd been manning the Semiotext(e) booth—since eleven in the morning, he said wearily, publishers have to sell books.
New faces included Alex Garner, former Artforum editor and recently hired wunderkind publisher of Artillery magazine, and local legends Tottenham (who strenuously denied an apparent cameo—of a certain "tall sensitive British guy" with "a gloomed-out expression" reading poetry as "John Wayne" with Lydia Lunch—in Skelley's autofictional collection) and Jarrett Kobek, both of whom opened for William E. Jones reading in the Den. Kobek read his recent Frieze obituary and personal reminiscience of Kenneth Anger, about driving the experimental film legend to the Getty Villa and seeing him feed the birds. Tottenham read an excerpt from his Artillery series on "Publication in the Age of Negation," his roman à clef on the struggle to publish a novel, wherein I may or may not myself cameo under the sonorous moniker Eden Gaperdiveve. Sammy Loren, who had dropped by to see Tottenham and meet a Mexican publisher he admired, ducked out before Jones (whose own Semiotext(e) book has recently been reissued) read some explicit gay pornography, just as he had at the March NDA.
Standing with me and Tottenham afterwards in the parking lot of Blum & Poe, art workers tearing down tents around us as the gray June day grew cold over La Cienega and Ballona creek trickling beneath, Kobek mused how he had forgotten until recently that not ten years ago galleries would pay three thousand dollars for a short text, and one's livelihood could be made as an art writer in total. No more. And yet, Jones' gallery had paid for his reading, and a fair bit to Kobek and Tottenham too, and was taking them all out to eat afterwards. West Coast literati may never have the fabled millions that Mankiewicz promised Hecht (and that their screen brethren still aspire to when not on strike), but they do a sight better than Bandini holed up in a hotel room. You can find them together at any of these places, or El Prado, or Taix, where Sammy Loren will buy you a drink—you can tell him I told you so.
(7/7/23)
Chris Molnar is co-founder and editorial director of Archway Editions. In 2014 he co-founded the Writer's Block, the first independent bookstore in Las Vegas.