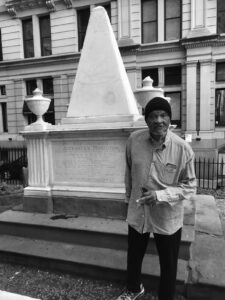 MR. MIRANDA, TAKE YOUR KNEE OFF OF OUR HISTORY by Ishmael Reed
Written to accompany The Haunting of Lin-Manuel Miranda (Archway Editions, 2020) as a response to recent protests against police brutality
The murder of George Floyd broadcast live did much to awaken the world to police brutality.
Over the last ten years, thousands of Black and Brown individuals have been framed by the police and prosecutorial misconduct. Television series, films, and theater are written as though they had to meet the approval of police unions before distribution. The overwhelmingly white news media engage reporters and opinion makers who hold the same stereotypes about the Black population as the general public. They believe that whites do powder cocaine while Blacks do crack. The typical crack addict is white. This has been known since the 1990s. Some writers are beginning to admit their role in creating pro-police dramas.
Crime writer John Fran wrote his mea culpa in the Times on June 4, 2020. In an Op-Ed entitled "How White Crime Writers Justified Police Brutality" he wrote:
We don't need any more novels or TV shows about cops who do the wrong thing for the "right" reason. This white shock, is it genuine? Perhaps. But why are whites repeatedly rediscovering a fact that people of color have always known: that the police are often as dangerous as the criminals they allegedly protect us from?
As a crime fiction writer, I've become convinced that white writers like me bear some responsibility.
Good for him. David Simon, the country's leading Black dysfunction entrepreneur and creator of the series The Wire, which has spawned some malignant clones, is also on the defensive.
It seems that Professor Karl Alexander and I were the only ones to object to stereotypes of blacks in The Wire. But now, since the murder of George Floyd, David Simon, who views Black Americans as drug dealers, prostitutes, and pimps (the typical portrayal of Jewish men in the 1930s Nazi media), is on the defensive about his image of the police. Complicit are his co-writers Richard Price and George Pelecanos. In the wake of George's murder, Simon sent one of the Black actors to defend the series. Two of the show's Black actors objected to the series, however. Michael K. Williams objected to a Simon script for The Wire, but Simon refused to change the script. Leaving Williams "livid," but he didn't have the power to do anything about it. Maybe his powerlessness led him to abuse drugs. Williams wasn't the only Black Wire actor who was unhappy with the show. These pro-police products influence the public's perception of black police relationships. The Wire is taught in colleges and universities.
The majority-white suburban jury cited the film Dirty Harry, one of many Hollywood films in which brutal rogue cops are heroes, as an excuse to acquit Oakland policemen who were charged with brutalizing black citizens.
But none of these policemen were slaveowners or advocated the extermination of Native Americans. Alexander Hamilton committed both deeds, yet he is depicted on Broadway as "an ardent abolitionist".
Similarly, Lin-Manuel Miranda's flattering portrait of Hamilton and the Schuyler sisters Elizabeth and Angelica has been distributed to thousands of students thanks to The Rockefeller Foundation, NYC Department of Education and the Gilder Lehrman Institute. And so when I saw the headline in the Hollywood Reporter in which Lin-Manuel Miranda apologized for his "moral failure" I thought; finally, Lin-Manuel Miranda has apologized for distorting black history by honoring people who were involved in the cruel business of slavery all of their lives.
He wrote: "That we have not yet firmly spoken the inarguable truth that Black Lives Matter and denounced systematic racism and white supremacy from our official Hamilton channels is a moral failure on our part." Miranda said in a video posted on his social media, "as the show's writer, I take responsibility and apologize for my part in this moral failure."
Maybe Miranda will throw Black Lives Matter some of the millions he's earned by putting his knee on the neck of black history by creating a show in which Black lives don't Matter. He probably thinks the policeman who murdered George Floyd was a lousy human being. I agree. But only one death was caused by the officer who murdered Lloyd, while the Phillip Schuyler family was cruel to Black people for generations. No telling how many Blacks died due to their practices. Bones of slaves excavated at the site of the Schuyler revealed that they definitely had a hard life. The bones show the effects of severe arthritis and stress, and most have "signs of very, very hard labor."
In Hamilton, Elizabeth Schuyler, portrayed as a progressive, helped her mother "manage" the Schuyler slaves. Her sister Angelica, who does a black power salute in the musical, owned slaves. Hamilton as a slave owner also committed terrible acts. He made a congratulatory comment about a vigilante mob leader that invaded an Indian settlement and massacred the inhabitants.
To answer this revisionist history, I wrote The Haunting of Lin Manuel Miranda, which
made the propagandists for Hamilton reconsider their sales pitch. Hamilton was no longer an "abolitionist" which was how he was depicted in the musical. Now, the sales pitch announces that he was opposed to slavery. How did he show his opposition to slavery? When the Haitians revolted against their French enslavers, Hamilton sided with the enslavers.
The Haunting of Lin Manuel Miranda received much criticism, much of it hostile. Dozens of comments appeared in the comments section of The New York Times and Broadway World denouncing me for daring to question the musical. I was ridiculed on an NPR show called Wait, Wait, Don't Tell Me, which is supposed to be for intelligent people. One of the fairest responses to my play came from the TV show The View. Host Joy Behar defended my right to tackle some of the musical's premises.
On November 9, 2020, The New York Times, which has received millions in revenue from Hamilton, admitted that Hamilton was a slave owner. But that was known before the Times piece Hamilton's grandson Allan McLane Hamilton wrote.
"It has been stated that Hamilton never owned a negro slave, but this is untrue. We find that in his books, there are entries showing that he purchased them for himself and for others." The Times had printed negative reviews of my play. Did this revelation about Hamilton change the coverage or advertising of the play? No, the Times is still pushing it.
The director, Rome Neal, and the manager of the Nuyorican Cafe, Dan Gallant, and I are pleased that we could offer an effective rebuttal to Hamilton with few resources. It was like a tug boat ramming into a destroyer.
I asked the Gilder Lehrman Institute, one of the backers of Hamilton, to back our play for balance. They didn't answer. Fortunately, powerHouse Books has stepped up so that those thousands of students who received copies of Hamilton will have a look at Hamilton and the Philip Schuyler family from another point of view. The NYC Department of Education, which endorsed this fraud, can salvage its reputation, tainted by distributing a pro-slavery script to thousands of students, by distributing our script.
(10/6/22)
Further reading:
THE INTIMATE LIFE OF ALEXANDER HAMILTON; BASED CHIEFLY UPON ORIGINAL FAMILY LETTERS AND OTHER DOCUMENTS, MANY OF WHICH HAVE NEVER BEEN PUBLISHED (1910) by Allan McLane Hamilton
Ishmael Reed is the author of over twenty-five books including Mumbo Jumbo, Yellow Back Radio Broke-Down and the Archway Editions titles The Haunting of Lin-Manuel Miranda and Life Among the Aryans.
He is also a publisher, television producer, songwriter, radio and television commentator, lecturer, and has long been devoted to exploring an alternative black aesthetic: the trickster tradition, or Neo-Hoodooism. A regular contributor to CounterPunch and founder of the Before Columbus Foundation, he taught at the University of California, Berkeley for over thirty years, retiring in 2005. Reed is the only person to be nominated for the National Book Award in two categories in the same year.