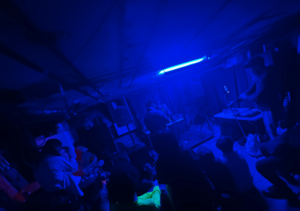 SOLAR SLASH III AT CAFFEINE UNDERGROUND, JUNE 8 by Naomi Falk
The crossroads between writing and music, writing and visual arts, writing and any other form, gets overlooked for events organizers who are hoping to pack a room with cash-dropping evening-staying partygoers. This problem is nearly impossible to shut up about for writers living in major cities, considering how sonic and visual mediums are documented historically and contemporarily (if you're reading these articles you're partaking) through written traditions. This is all to say that I was thrilled when Jared Daniel Fagen—mentioned below in Nicodemus's article—invited me to contribute a performance of my work to the third installment of Luz Sacaán's Solar Slash series (name à la Aimé Césaire's Solar Throats Slashed).
If siloed artistic mediums is a sickness, than Solar Slash is the topical and soul-purging antidote, described by Sacaán as a "night of mixed bills and arts that are often misrepresented, separated from each other, relegated to academia or galleries, or that are often isolated together mixed as a grand hodgepodge of freaks and creatives." The evenings bill fit nine artists, some of whom performed collaboratively, who descended into Caffeine Underground's dim basement punctuated by the guttural generator. The evening was unearthed by Zona Zanjeros whose sound art performance seemed to eat itself from the inside out, followed by myself; Proninny's gestural and interdimensional sax work; Erin Fleming's mirrorlike voyage into fragmented memory; JDF and Ceremonial Abyss's overture beginning in an entanglement of grief and ending in a fantasy of nostalgia; Luz and Eccchobunny's collaborative spoken and video-projected incantation cast with images of computed repetition and delivered across generations and through the holiness of religious awakening; and finally Vid Linger and Jaguarpsychosis's deconstructed soundscape of torment, storm, and left-behind places. The experience left me wondering about problems deeper than heartache or loneliness, the ones that can only be located and held down through the creation of more and more art and self-expression.
The organizer kept the ship on chart even with the hefty amount of hardware being plugged and unplugged between performances, allowing attendees to move casually in and out of the venue between sets to smoke cigarettes or to run to the bodega (or their nearby apartment) for swigs of tall boys, orange wine, and other friendly spirits. Archway Editions staff and the writer and Red Light reading series organizer Nifath Karim Chowdhury ended the night with a few more beverages and a brief survey of what constitutes good writing (an encounter with art grows infectious!)
When the artistic mediums operate together, they draw out the best in one another: you'll grow more attuned to the sentences of musical phrasing or subtext writhing in the silence of a poem. Solar Slash is the vessel for this interplay. The consequences of considering the purposes and meanings of art result in serious unrest. My general sense is that the larger world of top-hits "artistry," popular culture, over saturation with cheap celebrity and this twenty-first century genre of easily-won-ironic-but-unknowingly-unironic-cringe-"I don't care about art" writing would lose footing and crumble if not sustained by the invisible forcefield of meaning and magic generated by intentional experimentation and risk-taking of alternative communities. Could be delulu, but probably not! In either case, someone's got to do the work, and Luz is doing it!!
I look forward to its next installment whenever it may be.
(7/7/23)
Naomi Falk is a writer, editor, and book designer living in Brooklyn. Her work fixates on art, intimacy, pain, and the ways in which we engage and disconnect our sensory perceptions.
She is also the Rights Coordinator of MoMA's Publications Department, the co-founder of the new print magazine and art collective NAUSIKÂE NYC, and senior editor for Archway Editions.
She is represented by Mina Hamedi of Janklow & Nesbit Associates.